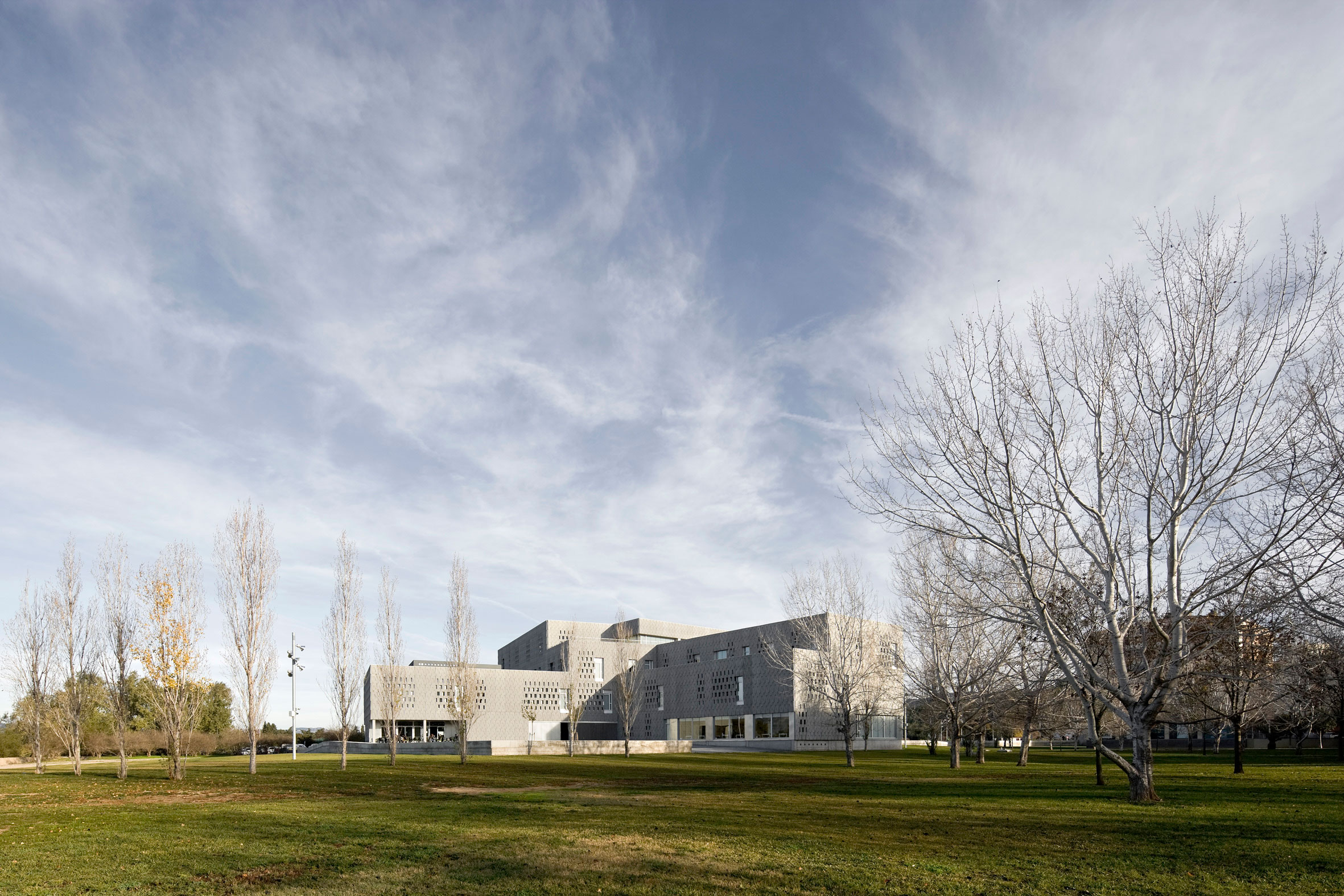 Campus URV


A mig camí entre el parc i la ciutat, la proposta pretén fer amable la transició entre l'entorn natural i l'urbà. D'una banda, al nou edifici se'l pot descobrir entremig dels arbres, com una peça fragmentada i discontínua que busca una fàcil integració amb l'entorn del parc. De l'altre costat, però, és capaç d'oferir una façana urbana més compacta que pren l'alçada habitual dels edificis de l'entorn.

En planta, l'edifici es retranqueja per obtenir el perímetre necessari per a la disposició del programa i al mateix temps poder ser travessat fàcilment. Contràriament al que representaria un edifici barrera, la disposició facilita els recorreguts en diagonal i permet relacionar el parc amb la ciutat i el recinte firal, situat just al costat.

Campus URV


Halfway between the park and the city, the proposal aims to make a kindly transition between natural and urban surroundings. On one hand, the new building can be discovered between the trees, as a fragmented and discontinuous piece that looks for an easy integration with the surroundings of the park. On the other hand, however, it's able to offer a more compact urban façade that reaches the typical height of the neighbourhood buildings.

In plan, the building sets back to obtain the perimeter needed to dispose the required programme and at the same time to be crossed easily. Contrarily to what a barrier building would represent, the disposition eases diagonal paths and allows to relate the park with the city and the fair complex, located right next to the building.

Campus URV


A medio camino entre el parque y la ciudad, la propuesta pretende hacer amable la transición entre el entorno natural y el urbano. Por un lado, el nuevo edificio puede ser descubierto entre los árboles, como una pieza fragmentada y discontinua que busca una fácil integración con el entorno del parque. Por el otro, sin embargo, es capaz de ofrecer una fachada urbana más compacta que toma la altura habitual de los edificios del entorno.

En planta, el edificio se retranquea para obtener el perímetro necesario para la disposición del programa y al mismo tiempo poderse atravesar fácilmente. Contrariamente a lo que representaría un edificio barrera, la disposición facilita los recorridos en diagonal y permite relacionar el parque con la ciudad y el recinto ferial, situado justo al lado.

· Obra seleccionada a la Biennal de Venècia 2012.
· Obra seleccionada als Premis FAD d'Arquitectura 2012.
· Obra seleccionada a la XII Bienal Española de Arquitectura y Urbanismo 2013.
· Obra seleccionada a la IV Mostra d'Arquitectura Terres de l'Ebre 2014.

Publicacions
"INDE. Informació i debat", Març 2007, pàg. 60, ISSN: 1134-0223, Barcelona, 2007
"URV nº16", Universitat Rovira i Virgili, pàg. 25, D. Legal: B-48078-2004, Tarragona, 2011
"CONCEPT", nº161, pàg. 86-95, ISSN: 1288-4262, South Korea, 2012
"Architecture & Detail", nº52 (2012-10) Façades, pàg. 699-701, ISSN: 1672-4518, China, 2012
"University Architecture", pàg. 66-81, Edited by Hi-design Publishing. Dalian University of Technology Press, ISBN: 978-7-5611-7466-1, China, 2013
"4a Mostra d'Arquitectura de les Terres de l'Ebre (2007-2013)", pàg. 26, COAC, D. Legal: T-177-2016, Barcelona, 2016

Any: 2009 - 2011
Autors: Pere Joan Ravetllat, Carme Ribas, Josep Ferrando
Col·laboradors: Toledo-Villarreal (arquitectes tècnics), NB35 Barcelona (estructures), JG Ingenieros (instal·lacions)
Fotografies: Adrià Goula