Habitatges a Quatre Camins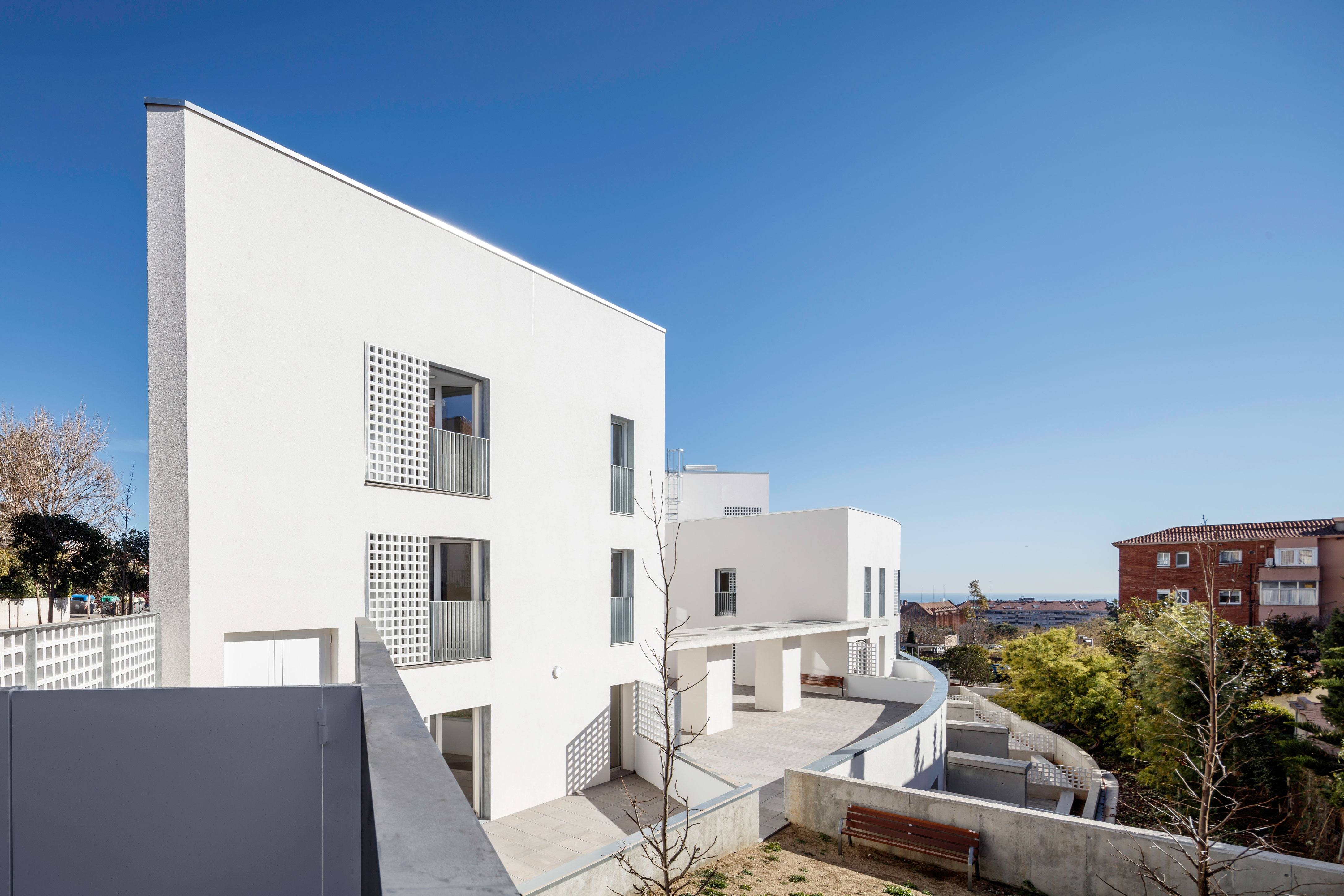 Habitatges a Quatre camins

Es planteja un edifici alineat als carrers i obert cap a la bona orientació i les vistes, on la majoria dels habitatges donen a sud o a sud-est. La proposta busca una escala d'implantació adequada a l'entorn, intentant que un edifici d'habitatges dotacionals com aquest complementi la domesticitat del teixit residencial unifamiliar amb la major dimensió i escala d'altres peces al seu entorn.

A banda, es proposa una construcció de mínima petjada ecològica i de baixa demanda energètica, compacta i amb un bon aïllament tèrmic (sistema SATE), que pretén acostar-se a l'objectiu NZEB. L'aprofitament de la radiació solar a les bones orientacions i una ventilació mecànica amb recuperació de calor, seguint els estàndards PassivHaus, permet una reducció estimada del consum total en un 75% i una qualificació energètica A.

Housing in Quatre camins

An aligned building to the street is proposed to achieve good orientation and views, where most of the dwellings look south or southeast. The proposal looks for an implantation scale that is adequate to the surroundings, trying that a public housing building such as this, complements the domesticity of the surrounding residential fabric with bigger dimension and the scale of other buildings around.

Furthermore, the design consists of a minimal ecological footprint, low energy demand, compact and well insulated (ETIS system) that aims to reach a NZEB objective. The benefit from solar radiation on good orientations and mechanical ventilation with heat recovery, following Passivhaus standards, allows for a cut in total consumption of around 75% and an A energetic qualification.

Viviendas en Quatre camins

Se plantea un edificio alineado a las calles y abierto hacia la buena orientación y las vistas, donde la mayoría de las viviendas dan a sur o sudeste. La propuesta busca una escala de implantación adecuada al entorno, intentando que un edificio de viviendas dotacionales como éste complemente la domesticidad del tejido residencial unifamiliar con la mayor dimensión y escala de otras piezas en su entorno.

Además, se propone una construcción de mínima huella ecológica y de baja demanda energética, compacta y con un bien aislamiento térmico (sistema SATE) que pretende acercarse al objetivo NZEB. El beneficio de la radiación solar en las buenas orientaciones y una ventilación mecánica con recuperación de calor, siguiendo los estándares PassivHaus, permite una reducción estimada del consumo total en un 75% y una calificación energética A.

· Obra seleccionada al Primer Concurs Iberoamericà Passivhaus 2011.
· Finalista i menció als Premios Construcción Sostenible 2018.
· Seleccionada als Premis Catalunya Construcció CAATEB 2018.
· Finalista als Premis European Responsible Housing Awards 2019.
Publicacions
"Plans i projectes per a Barcelona. 2011-2015", pág. 45, Ajuntament de Barcelona, ISBN: 978-84-9850-692-1, Barcelona, 2015
"ON Diseño", nº387/388, pàg. 50-57, ISSN: 0210-2080, Barcelona, 2019
"Innovación en vivienda asequible. Barcelona. 2015-2018", Ajuntament de Barcelona, ISBN: 978-84-9156-196-5, Barcelona, 2019

Any: 2015 - 2017
Autors: Pere Joan Ravetllat, Carme Ribas, Nicolás Markuerkiaga
Col·laboradors: Static (estructura), JG Ingenieros (instal·lacions), Micheel Wassouf (passivhaus), Nuno Almeida (paisatgisme)
Fotografies: Adrià Goula, Jordi Surroca