Institut a Sant Pere de Ribes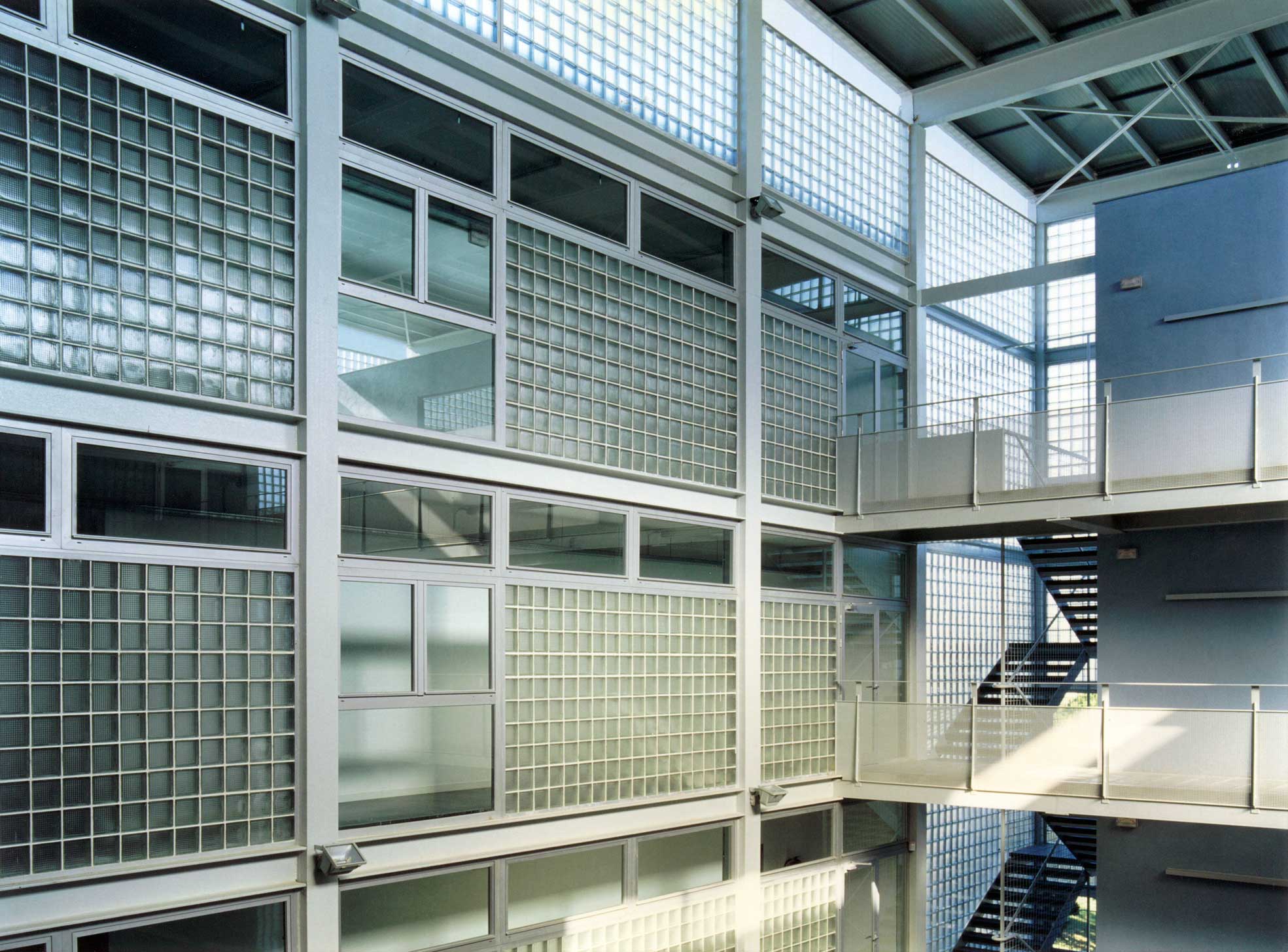 Institut a Sant Pere de Ribes

La proposta contempla un edifici principal de planta baixa i tres plantes on es disposa la major part del programa, i un altre situat a l'extrem oposat del solar destinat a gimnàs. Els dos edificis, juntament amb la rampa passera que els connecta, delimiten l'àmbit de la pista esportiva.

L'absència d'alineacions clares on recolzar l'edificació, així com la pròpia irregularitat dels perímetres, propicia una solució que cerca en la creació d'una geometria pròpia la definició dels diferents espais i deixa la resta de solar fins als marges com a pati de joc.

School in Sant Pere de Ribes

The proposal contemplates a main building of ground floor and three stories, where most of the programme is distributed, and another building placed on the opposite side of the plot for the gym. The two buildings, together with the ramp walkway that connects them, limits the perimeter of the sports court.

The absence of clear alignments as well as the perimeter's irregularity, propitiates a solution in which the geometry define the different spaces and leaves the rest of the plot until its edges as a playground.

Instituto en Sant Pere de Ribes


La propuesta contempla un edificio principal de planta baja más tres, donde se coloca la mayor parte del programa, y otro situado en el extremo opuesto del solar destinado a gimnasio. Los dos edificios, junto con la rampa pasarela que los conecta, delimitan el ámbito de la pista deportiva.

La ausencia de alineaciones claras donde apoyar la edificación, así como la propia irregularidad de los perímetros, propicia una solución que busca en la creación de una geometría propia la definición de los diferentes espacios y deja el resto del solar hasta los márgenes como patio de juego.
· Seleccionada als Premis FAD d'Arquitectura 1993.
Publicacions
"Catálogo III Bienal de Arquitectura Española 1993/1994", pàg. 181, Santander, 1995
"Quaderns d'arquitectura i urbanisme", nº207-208-209, Tríptic d'Arquitectura Catalana, pàg. 142-145, ISSN: 0211-9595, Barcelona, 1995
"Arquitectura Viva", nº46, pàg. 38, ISSN: 0214-1256, Madrid, 1996
"Arquitectura de España 1929-1996", pàg. 127, Fundació Caixa d'Arquitectes. ISBN: 84-920718-9-3, Barcelona, 1996
"Catalunya. Guia d'Arquitectura Moderna. 1880-2007", pàg. 281, COAC, Barcelona, 2007
Any: 1993
Autors: Pere Joan Ravetllat, Carme Ribas
Col·laboradors: Ramon Auset (arquitecte tècnic), Static (estructures), Pere Largo (instal·lacions)
Fotografies: Elisabet Armora