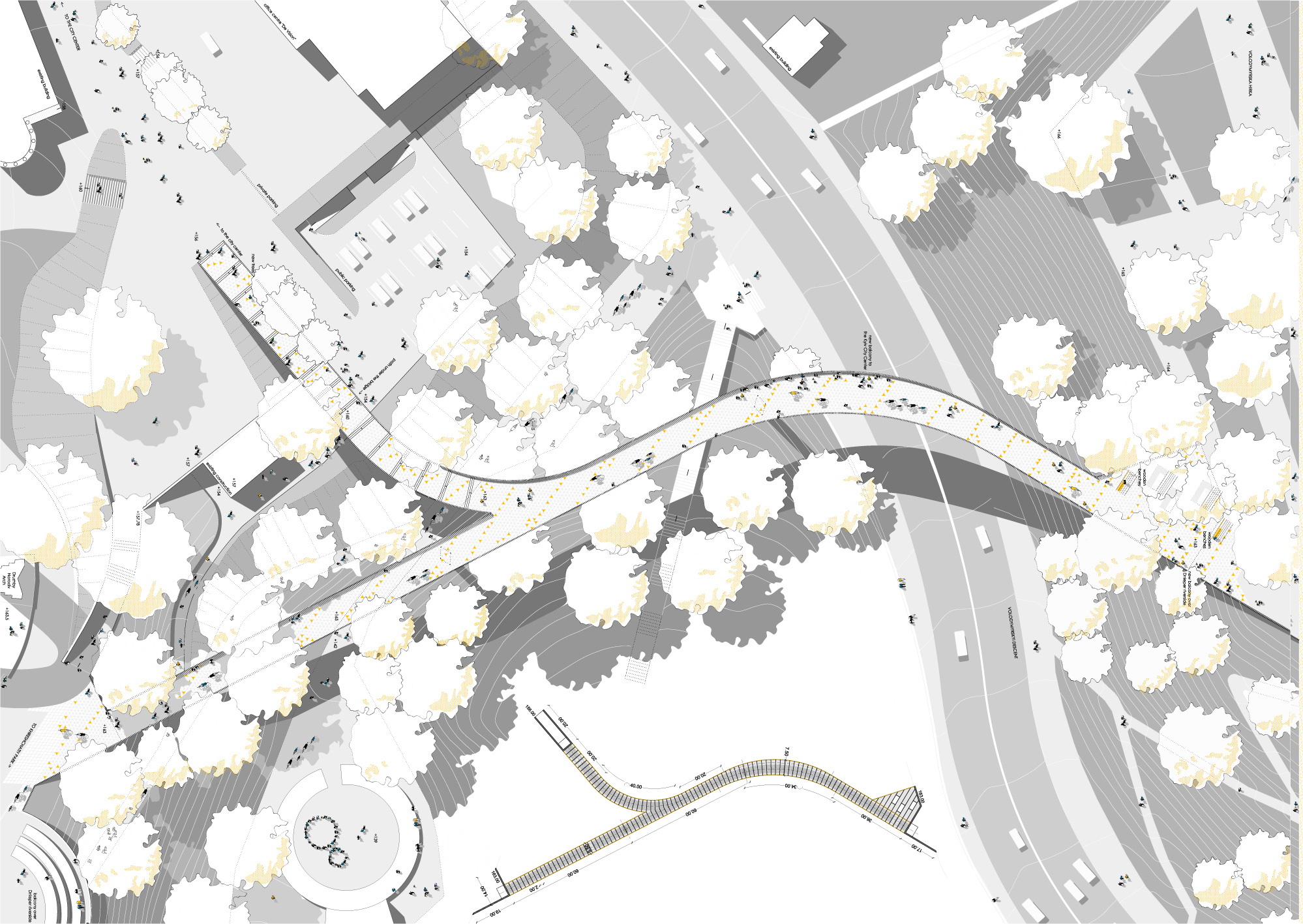 Pont a Kiev - competition

La unió entre els parcs de "Khreschatiy" i "Volodymyrska Hirka" entre els dos districtes de la ciutat és especialment rellevant. Primer pel seu potencial per oferir una nova i atractiva ruta i connexions amb altres camins existents, i després, per la singularitat del lloc en el que es troba. La seva proximitat al centre històric de Kiev proporciona un punt representatiu al llarg del recorregut del pont a mig camí a qualsevol de les dues direccions. Aquesta és la raó per la planta final, que cerca la integració geomètrica i la connexió amb les seccions existents del lloc. Hi ha també una preocupació per oferir una geometria clara i senzilla que accentua el punt més proper al centre de Kiev, amb la possibilitat de tenir un balcó sobre la silueta més reconeixible de la ciutat.

L'increment de l'ample en aquest punt central del pont i la seva geometria corba apropa la gent a la ciutat i proporciona bones vistes.
Kiev's footbridge - competition


The union between the parks of "Khreschatiy" and "Volodymyrska Hirka" in the two districts of the city is especially relevant. Firstly, for their potential to offer a new and an attractive route and connections with other existing paths, and, secondly, for the uniqueness of the place where it is located. Its proximity to the historical center of Kyiv provides a representative point along the path of the bridge, halfway along the route in any of the two directions. That is the reason for the final plan, which aims a geometric integration and connection with the existing sections of the location. There is also a concern to offer a clear and a simple geometry that accentuates the closer point to the center of Kyiv, with the possibility of having a balcony above the most recognizable skyline of the city.

The increase of the width at this central point of the footbridge and its curvy geometry brings closer the people to the city and provides good views.
Puente en Kiev - concurso

La unión entre los parques de "Khreschatiy" y "Volodymyrska Hirka" entre los dos distritos de la ciudad es especialmente relevante. Primero por su potencial para ofrecer una nueva y atractiva ruta y conexiones con otros caminos existentes y, después, por la singularidad del lugar en el que se encuentra. Su proximidad al centro histórico de Kiev proporciona un punto representativo a lo largo del recorrido del puente a mitad de camino en cualquiera de las dos direcciones. Esta es la razón para la planta final, que busca la integración geométrica y la conexión con las secciones existentes del lugar. Hay también una preocupación por ofrecer una geometría clara y sencilla que acentúa el punto más cercano al centro de Kiev, con la posibilidad de tener un balcón sobre la silueta más reconocible de la ciudad.

El incremento del ancho en este punto central del puente y su geometría curva acerca a la gente a la ciudad y proporciona buenas vistas.
· Segon Premi al concurs internacional 'Design of pedestrian and bycicle bridge of Kyiv'
Publicacions
"Bridge Competition 2013", Department for Urban Planning and Architecture. Kyiv City Council. Kyiv, 2013

Any: 2013
Autors: Pere Joan Ravetllat, Carme Ribas
Col·laboradors: Esteyco (estructures)